Dangerous Meeting adalah film komedi romantis yang dibintangi oleh Lee Shi Young (Birth of the Rich) dan Song Sae Byuk (Bad Deal) sebagai sepasang kekasih yang pernikahannya sangat ditentang oleh keluarga masing-masing.
Konflik didasarkan oleh perbedaan asal daerah dari kedua ayah. Yang satu berasal dari propinsi Gyeongsang, dan yang lainnya berasal dari Jeolla, yang adalah dua propinsi dari bagian selatan korea dengan karakteristik daerah yang kuat. Orang tua menentang pasangan ini, tapi keduanya tetap maju (untuk menikah), dan perselisihan terjadi saat kedua keluarga bertemu untuk tradisi sanggyeonrye, yaitu "meeting" yang dimaksudkan dalam judul film ini dimana keluarga dari pengantin wanita dan laki-laki membuat penghormatan formal ke satu sama lain atas pertunangan anak mereka.
Tapi seperti yang bisa kita lihat, posternya sendiri seperti mengatakan "Semakin kuat penolakannya, kami berdua semakin lengket!"
Dangerous meeting akan dirilis bulan maret mendatang.
Teaser
[youtube=http://www.youtube.com/watch?v=eiuMJvU0ps0]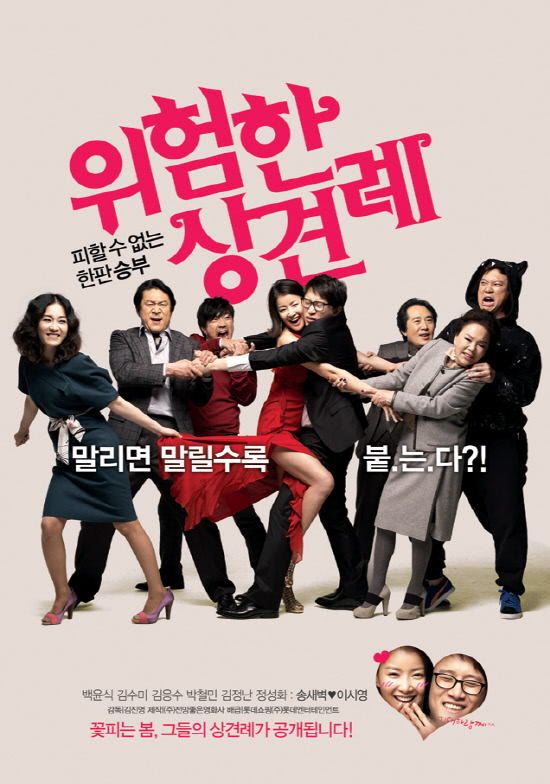 source : Dramabeans & Hancinema